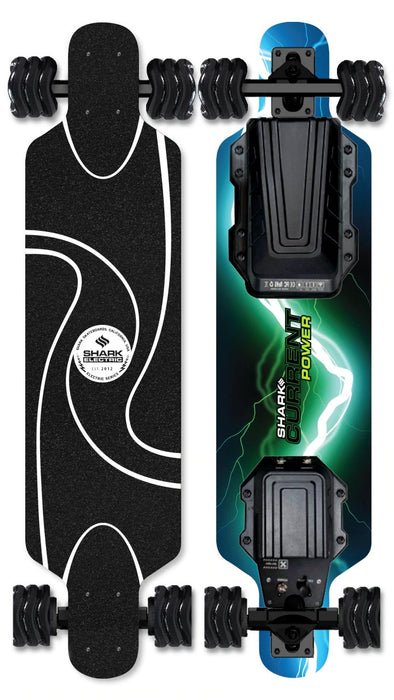 Sharkwheel Shark Electric Power
Original price
$ 799.99
-
Original price
$ 799.99
SHARK ELECTRIC POWER: Unleash Your Street-Style Thrills
🔥 Street-Style Dominance:

 

Whether you're cruising through city streets or perfecting your sidewalk surf, the SHARK ELECTRIC POWER takes your ride to the next level.
🛹 Premium Deck:

 

Crafted from a blend of 7-ply Canadian Maple and 1-ply Fiberglass, the Electric Power offers unbeatable durability and a silky-smooth ride.
⚡ High-Performance Hub Motor:

 

Powered by a 540W hub motor, this electric skateboard effortlessly propels you to speeds of up to 48 km/h, making it your trusty street companion.
🚀 Four-Speed Modes:

 

Switch gears with ease and tailor your ride to your liking, from casual cruising to adrenaline-pumping sprints.
Prepare to embark on an electrifying journey with the SHARK ELECTRIC POWER. Designed for those who crave the thrill of the street, this electric skateboard redefines urban transportation. Whether you're navigating through bustling cityscapes or exploring your neighborhood, guarantees a ride that will leave you wanting more.
But it isn't just about power; it's about control. With its four-speed modes, you can fine-tune your experience, ensuring it's as exhilarating or laid-back as you desire. The intuitive wireless remote puts the power at your fingertips, allowing you to accelerate, brake, and switch modes effortlessly. And thanks to regenerative braking, not only do you get a smoother descent on declines, but you also do your part for the environment by conserving energy.
Unbox your excitement with the complete package that comes with it. Inside, you'll find a power adapter, charger, wireless remote, and a handy multi-functional T wrench. Everything you need to kickstart your street adventure.
Manufactured with precision in the US and China, the SHARK ELECTRIC POWER boasts an IP54 rating, making it resilient against dust and splashes. While it's ready to take on the urban jungle, it's not just about conquering streets; it's about the style and thrill that come with it.
So why wait? Elevate your street-style thrills and take to the streets with the SHARK ELECTRIC POWER. Whether you're an experienced rider or new to the world of electric skateboarding, this board is here to make your urban adventures unforgettable.