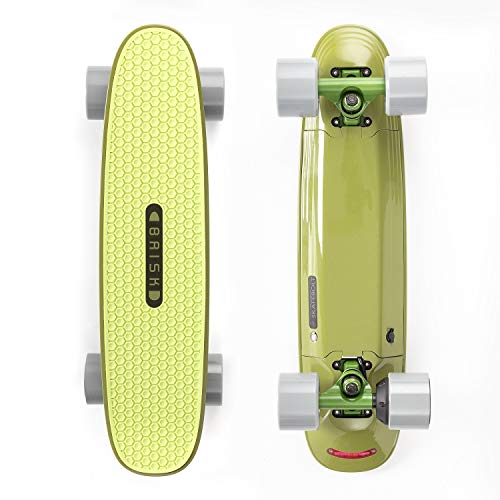 SKATEBOLT Brisk 24" Electric Skateboard for Kids and Teens, Top Speed 11 MPH, Max Range 7 Miles, A.I. Gravity Sensor Control,Self-Balanced Mini E-Cruiser Skateboard (Green)
Original price
$ 399.00
-
Original price
$ 399.00
Brand: SKATEBOLT
Color: Green
Features:
[A.I Gravity Sensor Control] BRISK electric skateboard is equipped with intelligent motion sensing chip. With the responsive gravity sensor, you can adjust the speed, brake and turn by body posture control. Posture control free both hands.
[Advanced Performance] High speed mute brush-less motor can give you a top speed of 11 MPH. 2.5Ah capacity battery maximizes the range up to 7 miles.
[Good Shock Absorption] Flexible Antiskid silicone pads along with 2.87 inch PU wheels have an effective shock absorption against all urban roads & pavements.
[Specially Designed for Kids and Teens] This mini multicolored cruiser skateboard is perfect for kids and teens. It's eye catching and suitable for the youth generation to travel around the campus or have fun in the town.Weighs 8lbs, easy to carry around.
[Buy with Confidence] Our self balancing BRISK E-Cruiser has passed reliable testings.Three months warranty. After-sale center in California, timely service.
Details: BRISK is a new product released by SKATEBOLT in December 2020, specially designed for kids and teens. It is smart, stylish, elegant and full of fun. With beautiful package box, it is a very good choice for gifts. BRISK A.I.control is realized by the change of the rider's center of gravity. The sensor on the board can sense the weight changes of the front and rear axles, and then provide accurate driving force in near real time. Every SKATEBOLT electric skateboard is backed by our expert team of support specialists, fully staffed in the U. S. Product Specification Range:6+_1 miles (8-10km) Top Speed:Up to 11mph (18km/h) No. Of Motor:1 Rated Power:150W Capacity2.5Ah Charging Time:2 hours Incline:Up to 10% Max Load:UP to 154lbs (70kg) Size:24*9.5*5.5 inch (600*145*118mm) Weight:8lbs (4.35kg) Material:ABS+pc+glass fiber Wheel Size:2.87*2in/73*51mm Features Integrated Design Profusion Colour High speed Mute Brush-less Motor All-in-one PU wheel 2.5Ah Capacity Battery Up to 10% Incline Silicone Antiskid Pad Induction Brake Lamp Intelligent Motion Sensing Chips Posture Control Free both Hands, Easy to Carry Around Dual-mode Design(Beginner mode and advanced mode) For all Urban Roads & Pavements
EAN: 0760587634363
Package Dimensions: 25.0 x 9.0 x 7.5 inches