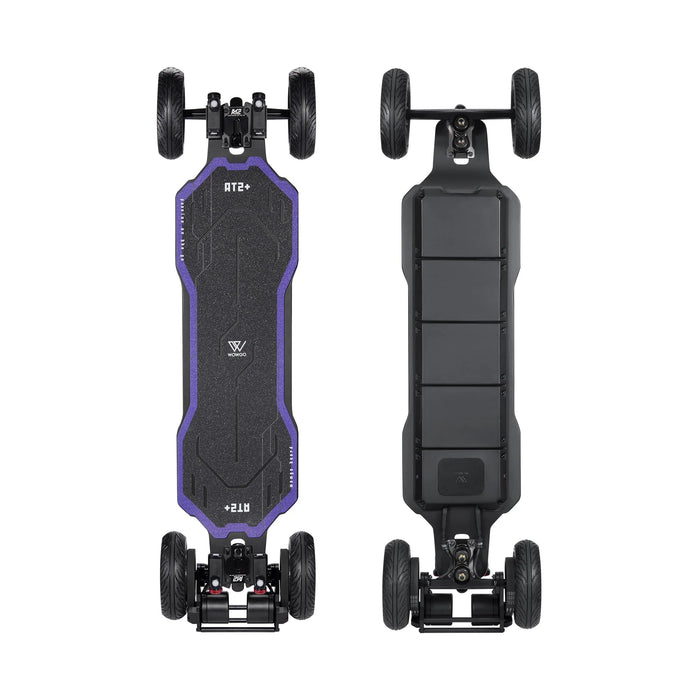 WowGo AT2 Plus Electric Skateboard and Longboard
Original price
$ 1,049.99
-
Original price
$ 1,199.99
WowGo AT2 Plus Electric Skateboard: Conquer Every Terrain
🔥 All-Terrain Mastery: Whether it's city streets or challenging off-road trails, the WowGo AT2 Plus has got you covered.
🌲 Premium Deck: Crafted from a blend of Canadian Maple, Bamboo, and Fiber Glass, ensuring unmatched durability and a buttery-smooth ride.
⚡ Dual Motor Powerhouse: Featuring dual 2100W hub motors, this skateboard is primed to tackle any adventure with ease.
🔄 Versatile Riding: Effortlessly switch between wheels for diverse riding experiences.
The future of skateboarding is here, and it's more exhilarating than ever. Introducing the WowGo AT2 Plus Electric Skateboard - the ultimate fusion of power, design, and versatility. Crafted for those who refuse to compromise, this skateboard is purpose-built to conquer all terrains, ensuring your adventures know no limits. Whether it's navigating the rugged off-road trails or gliding through the smooth city streets, the WowGo AT2 Plus delivers an extraordinary ride every time.
But the WowGo AT2 Plus offers more than just an exceptional ride. Its wireless 2.4G controller delivers unparalleled performance, allowing you to accelerate, brake, and switch modes with just a flick of your thumb. With regenerative braking, you not only enjoy a safer descent on declines but also contribute to a greener planet by conserving energy - taking sustainability to new heights.
Each WowGo AT2 Plus package comes complete with everything you need to embark on your journey - a power adapter, charger, wireless remote, and a versatile toolkit, including spare belts, a pump, and even optional Cloud Wheel Sets and Belt Covers. So why wait? Elevate your skateboarding experience and embrace the future with the WowGo AT2 Plus Electric Skateboard.
Product Features:
🚀 Max Speed: Reach speeds of up to 50 km/h (31 mph), perfect for thrill-seekers.
🏞️ All-Terrain Dominance: With a 30% climbing ability and 12-inch front and rear double kingpin trucks, no terrain is too tough to conquer.
🌧️ Weatherproof Design: Rated IP54, this skateboard can handle light rain and splashes, extending your riding possibilities.
📱 App-Enabled: Connect to the WowGo app for advanced riding modes and performance monitoring.
Powered by a 12S4P battery, enjoy a range of up to 30 km (18 miles) with 175 mm wheels or 45 km (27 miles) with 120 mm wheels.
⚡ Quick Charging: The WowGo AT2 Plus fully charges in just 4.5 hours, so you can get back to riding sooner.
Don't miss out on the WowGo AT2 Plus Electric Skateboard - the ultimate companion for adventurers seeking unparalleled performance, durability, and style. Order yours today and redefine your skateboarding experience!
Factory Location: United States and China