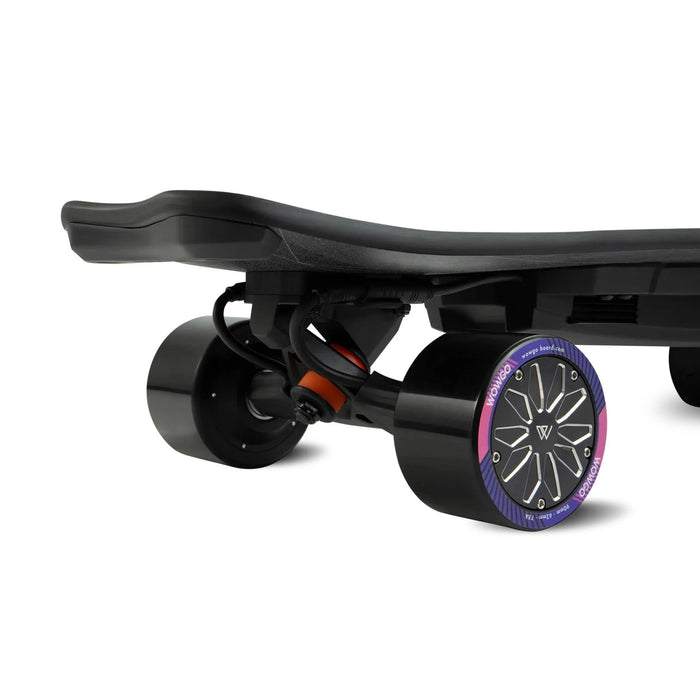 WowGo Mini 2 Electric Skateboard | Electric Penny Board
Original price
$ 489.99
-
Original price
$ 589.99
WowGo Mini 2 Electric Skateboard: Master the Streets with Style
🔥 Street Savvy: The WowGo Mini 2 is your ticket to urban exploration. Zip through city streets with finesse and flair.
🍁 Premium Deck: Crafted from 8-ply Canadian maple, the concave deck provides a stable platform for your every move.
⚡ Hub Motor Powerhouse: With a high-performance hub motor, the WowGo Mini 2 propels you to speeds of up to 40 km/h (25 mph).
🚀 Ride Your Way: Experience the freedom to conquer inclines, take sharp turns, and embrace the thrill of the ride.
Experience the future of skateboarding with the WowGo Mini 2 Electric Skateboard - a sleek, agile, and stylish ride built for urban adventurers. Designed for those who crave excitement, this skateboard is the perfect fusion of form and function, delivering an unparalleled riding experience. Whether you're weaving through city traffic or cruising along the boardwalk, the WowGo Mini 2 ensures every journey is an unforgettable adventure.
But it doesn't stop there. The WowGo Mini 2 comes equipped with a cutting-edge OLED remote control, providing you with precise control at your fingertips. Accelerate effortlessly, brake smoothly, and toggle between ride modes with ease. Plus, the regenerative braking system not only ensures your safety on descents but also maximizes energy efficiency, extending your ride.
What's in the box? Everything you need to get started on your skating odyssey: a 42V 2A charger, charging cable, skateboard T tool, skateboard Y tool, Mini 2 manual, stickers, and a skateboard card. We've got you covered from setup to skate. So why wait? Elevate your urban escapades and embark on a journey like no other with the WowGo Mini 2 Electric Skateboard.
Key Features:
Deck Material: 8-ply Canadian maple concave deck for stability and control.
Speed: Zoom up to 40 km/h (25 mph) for an electrifying ride.
Max Weight Capacity: Supports riders up to 100 kg (220 lbs).
Climbing Ability: Conquer inclines with confidence, thanks to a 30% climb rate.
Trucks: Enjoy stability with 45-degree trucks.
Remote Control: An OLED remote control for effortless command over your ride.
Ride Modes: Choose from 4 speed modes to tailor your experience.
Battery: Powered by a 10S2P battery for a range of up to 25 km (15 miles).
Charge Time: Recharge in just 2.5 hours and get back to your adventures.