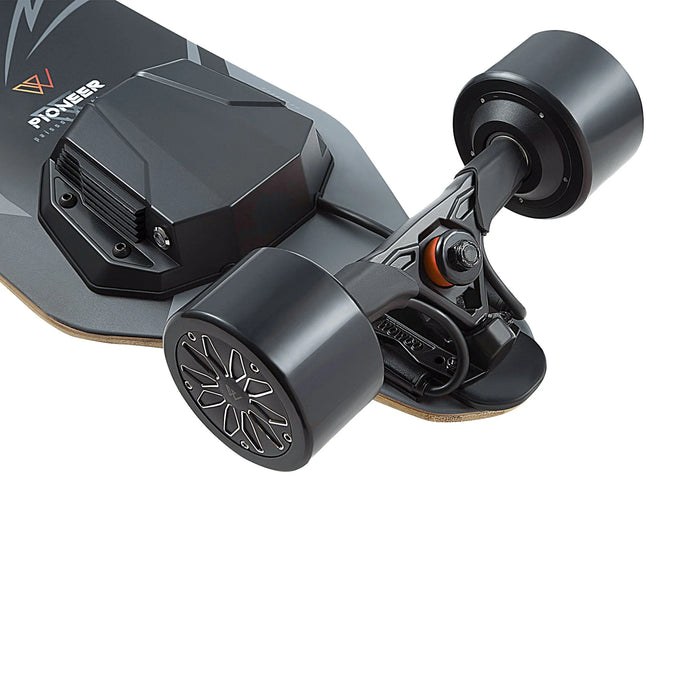 WowGo Pioneer 4 Electric Skateboard and Longboard
Original price
$ 599.99
-
Original price
$ 719.99
WowGo Pioneer 4 Electric Skateboard: Your Ultimate Street Adventure
🔥 Unleash the Streets: Whether you're cruising through city avenues or conquering urban terrain, the WowGo Pioneer 4 is your perfect ride.
🌲 Premium Deck: Crafted from sturdy 8-ply Canadian maple, the concave deck provides unmatched control and comfort.
⚡ Dual Hub Motors: Equipped with two robust 680W hub motors, this skateboard is designed for thrilling speed and performance.
🔄 Effortless Riding: Switch between modes with ease, thanks to the intuitive OLED remote control.
Prepare for the ride of your life with the WowGo Pioneer 4 Electric Skateboard. This is the skateboard that empowers urban adventurers, designed to exceed your expectations and push the limits of street skateboarding.
The WowGo Pioneer 4 is engineered for those who crave speed, stability, and control. Its 8-ply Canadian maple concave deck not only ensures durability but also provides an ideal platform for carving through city streets with precision. You'll feel the difference from the moment you step on it.
With dual 680W hub motors, this skateboard is a true speed demon. Blaze through your city at speeds of up to 45 km/h (28 MPH), leaving everything else in your dust. The WowGo Pioneer 4 effortlessly carries riders weighing up to 150 kg (330 lbs), making it perfect for riders of all sizes.
But it's not just about speed; it's about control. The WowGo Pioneer 4 comes with an intuitive OLED remote control that puts the power at your fingertips. Effortlessly switch between four speed modes to tailor your ride to your preferences, whether you're commuting or carving. The advanced Hobbywing V5.0 ESC ensures a smooth and responsive ride every time.
And when it's time to slow down or stop, you can count on regenerative braking to not only keep you safe but also conserve energy, taking sustainability to a whole new level.
Every WowGo Pioneer 4 package includes everything you need to hit the streets - a powerful 50.4V 2A charger, charging cable, skateboard T tool, skateboard Y tool, Pioneer 4 manual, stickers, and even an optional LED tail light for added safety. We've thought of it all so you can focus on the ride.
Whether you're commuting, exploring, or simply having fun, the WowGo Pioneer 4 Electric Skateboard is your ticket to the ultimate street adventure. Don't wait any longer - embrace the future of urban mobility today!