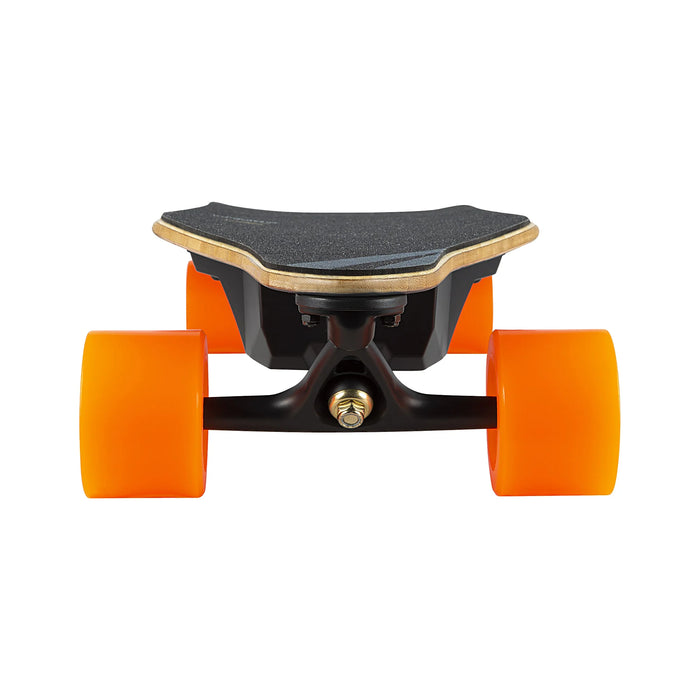 WowGo Pioneer X4 Electric Skateboard and Longboard
Original price
$ 649.99
-
Original price
$ 769.99
WowGo Pioneer X4 Electric Skateboard: Unleash Your Urban Adventure
🔥 Conquer the Streets: Whether you're cruising through city avenues or gliding on smooth sidewalks, the WowGo Pioneer X4 ensures an exhilarating ride.
🌿 Bamboo + Fiber Glass Deck: Crafted from a blend of bamboo and fiberglass, this deck provides the perfect combination of flexibility and strength for a smooth and stable ride.
⚡ Dual 700W Hub Motors: With two powerful 700W hub motors, this skateboard delivers lightning-fast acceleration and a top speed of 45 km/h (28 mph).
🔄 Versatile Ride: Effortlessly switch between riding modes to adapt to your surroundings and preferences.
Prepare to embark on a new era of skateboarding with the WowGo Pioneer X4 Electric Skateboard. It's not just a mode of transportation; it's an extension of your lifestyle. Crafted to exceed your expectations, this skateboard combines style, performance, and eco-friendliness for a truly unforgettable riding experience.
The WowGo Pioneer X4 boasts a deck made from a bamboo and fiberglass blend, ensuring a balance between flexibility and durability. Whether you're weaving through traffic or cruising along a scenic path, this deck offers the ideal platform for your urban adventures.
But the true magic lies beneath the deck. With dual 700W hub motors, the WowGo Pioneer X4 is a powerhouse on wheels. It propels you to a thrilling top speed of 45 km/h (28 mph), effortlessly conquering urban terrain with ease. Whether you're a seasoned rider or new to the game, the WowGo Pioneer X4 offers a smooth and responsive ride for all skill levels.
Switching between riding modes is a breeze with the included OLED remote control, allowing you to tailor your experience to your surroundings. Plus, the advanced Hobbywing V5.0 ESC ensures precise control and responsiveness, making every ride a joy.
Worried about steep inclines? The WowGo Pioneer X4 tackles them with a 30% climb capability, ensuring you can conquer even the toughest urban hills. And when it's time to slow down, the regenerative braking system not only enhances safety but also conserves energy, promoting sustainability.
Every WowGo Pioneer X4 package includes all the essentials for your journey: the skateboard itself, the OLED remote, a 42V 2A charger, charging cable, skateboard T and Y tools, the Pioneer X4 manual, stickers, and even an optional LED tail light for added visibility.
Designed and manufactured in the US and China, this skateboard adheres to the highest quality standards, ensuring a reliable and enjoyable riding experience. Plus, with an IP54 rating, it can handle light rain and splashes, so your adventures aren't limited by weather conditions.
The WowGo Pioneer X4 Electric Skateboard is more than just a mode of transportation; it's a statement of style and sustainability. Elevate your urban adventure today and join the WowGo revolution.